Let's Meat

a restaurant website concept
We have worked hard to bring you a website concept that will help your restaurant grow. Complete with location information, online menu,
and contact forms this site will bring your restaurant to your patrons. Bring more people through the door and even take online orders or catering orders.
Meals
Valentine's Cheeseburger $14.45
A large homemade burger with prime meat, cheese and bacon.
---
The Steak $19.99
A large steak cut from premium meat. Served with fries or baked potato.
---
Oklahoma Wonder $22.69
A Large 16oz T-bone steak served with steak fries.
---
The Texas Terminator $39.29
A very large 32oz steak for the girl or boy who want's a challenge. Comes with various side dishes.
---
Let's Meat WTF Steak $62.50
This is basically just a medium rare cow served with a bucket of gravy.
Beverages
Let's Meat Premium Draft Beer $5.49
Our own beer specially suited for our meals.
---
Let's Meat Premium Bottle Beer $5.99
Same as our draft beer, just in a bottle.
---
Tap Water $3.45
Just some clean water from the tap.
---
Tequila Shots $2.99
Our Tequila shots are golden, warm and dangerous.
---
Let's Meat Limited Edition Strong Beer $12.50
The best beer you will ever taste - period!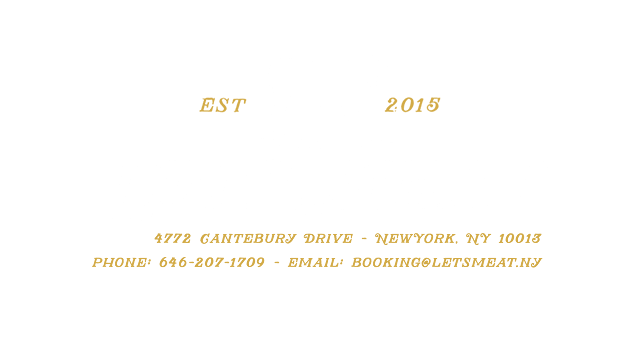 Opening Hours
| | |
| --- | --- |
| Monday - Thursday | 6:30 pm - 11:30 pm |
| Friday - Saturday | 6:30 pm - 2:00 am |
| Sunday | 11:00 am - 5:00 pm |
Follow Us
You can follow Let's Meat on all major social platforms. News, contests and special offers are announced on these platforms.